Ethic Council Publication NO 1 2019
General guidance for ethical considerations relating to studies, placements, field studies and degree projects abroad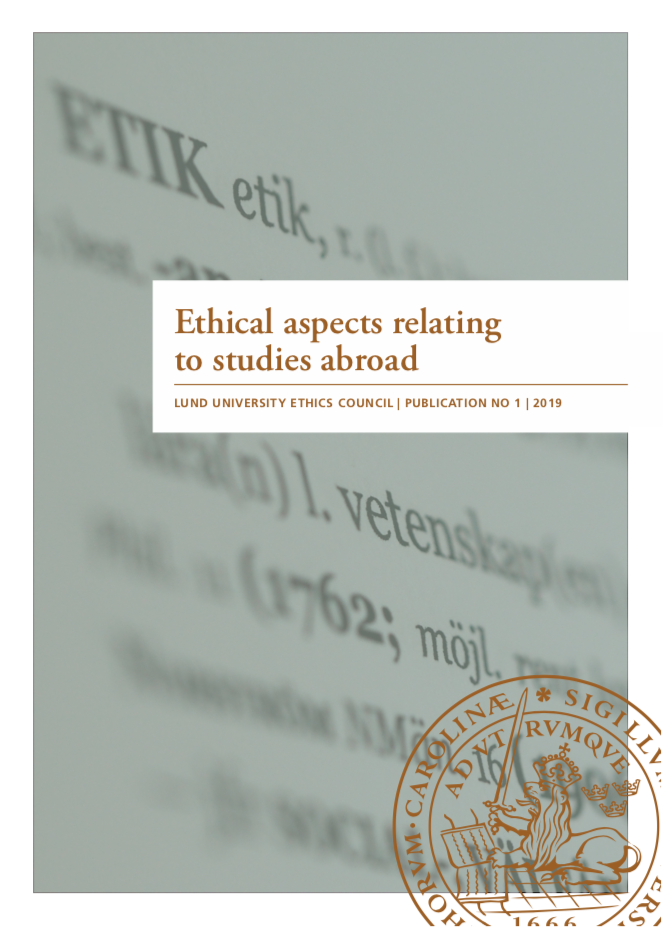 Cooperation is increasing between Lund University and higher education institutions abroad. More and more students are thus being given the opportunity to undertake valuable stays abroad for studies, placements, field studies and degree projects. Lund University's responsibilities include providing students with guidance prior to studies abroad. We therefore need a continuous discussion about what the "right" decision is in situations that may arise in connection with studies abroad. It is not possible to foresee all situations, but we have an obligation to obtain the best possible relevant knowledge. The guidance is intended to provide support in obtaining the knowledge required for planning studies abroad and provide guidelines for students in first and second cycle education.
The guidance is aimed at all employees who are responsible for planning and implementation of studies abroad and is therefore general in nature. In order to provide clear advice in concrete situations, the guidance needs to be complemented at faculty or department level, where specific needs and situations that arise within different activities should be taken into consideration.
This text presents a number of issues with recommendations about the information that should be available before a position is taken on studies abroad. This is followed by issues that may arise during and after students' stays abroad.
These issues are based on aims to: protect students and the quality of their studies during stays abroad, safeguard the environment from risks that the students' work may entail, and uphold Lund University's credibility as a prominent university for research and education.
The guidance has been drawn up by Lund University's Ethics Council.